Hearing Products
Selecting the type of hearing aid that is right for your hearing loss and unique listening needs requires the guidance of a professional who is well versed in all of variations of hearing instrument technology. Today, over 75% of all hearing aids sold are digital. Once your hearing aids have been fitted to your complete satisfaction, we will provide you with detailed information on how they should be maintained. Of course, you can have your hearing aids checked by us at any time. This will ensure that the sound quality remains as good as ever, and will extend the life of your aids.
Hearing Technology
Modern Solutions For All Types of Hearing Loss
Thanks to advances in technology, hearing products are designed to be more compatible with our lives than ever before. In addition to hearing aids, there are a number of products that make living and communicating with hearing loss easier to manage, so you never miss a beat.
Hearing aids come in a wide variety of styles and offer a number of features at varying price points. The device you choose ultimately comes down to your hearing loss, lifestyle and budget. Our hearing aid styles guide can help you find the best match for your unique hearing needs.
More on Hearing Aid Styles
We offer a selection of hearing aid batteries to fit all types and styles of hearing aids. Disposable and rechargeable options are available. With any questions regarding which battery to use, please contact our office.
More on Hearing Aid Batteries
The digital revolution has made a huge impact on the way hearing aids look and work. They can be so small that they are virtually invisible, or even so "cool" looking that you will want everyone to see them. They can also more accurately mimic the way you used to hear before you experienced hearing loss.
More on The Digital Revolution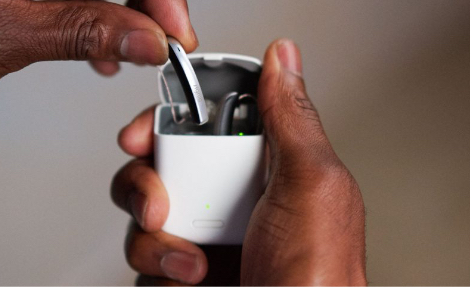 Hearing Product Guide
Curious About Hearing Technology, but Not Sure Where to Start?
With so many styles and options, it can be difficult to know which products will suit your needs. Our Consumer Guide to Hearing Aids provides an in-depth breakdown of the different types of hearing devices, as well as the technology available for all types of hearing loss.
Hearing Aid Manufacturers
Hearing Products Created by the Best in the Industry
When it comes to hearing loss, you need a device you can rely on to perform its best. That's why we carry products from manufacturers with a proven track record of exceptional quality. No matter your budget, lifestyle or type of hearing loss, we have a product to meet your needs.