Services
We offer services and treatment plans tailored to meet your unique hearing needs. From comprehensive evaluations to custom hearing aid fittings, our staff combines years of experience with state-of-the-art technology to find the best solution for you.
Hearing Tests
Hearing Testing and Evaluations
Choosing the right hearing aid starts with a clear understanding of your unique hearing loss needs. Our advanced testing procedures accurately identify whether or not you have hearing loss and measure the type and severity.
Hearing tests are performed by our licensed and nationally certified Hearing Healthcare Professional and are subject to professional fees. Insurance often covers these services. In order to assess your individual hearing needs, we first determine your personal hearing profile, or "audiogram." This is done by testing your ability to hear a series different frequency tones to assess hearing thresholds and multiple speech tests determine your ability to follow a conversation. The results will help us determine the severity of your hearing loss, your ability to understand speech, and how hearing aids will improve your ability to hear. If you have a significant hearing loss, we will continue with a hearing aid evaluation.
Workers in certain occupations are required to receive regular hearing tests due to the risk of hearing loss that can be caused by excessive noise in their workplace. These hearing screenings can be completed in less than 30 minutes, and comply with the standards set by OSHA.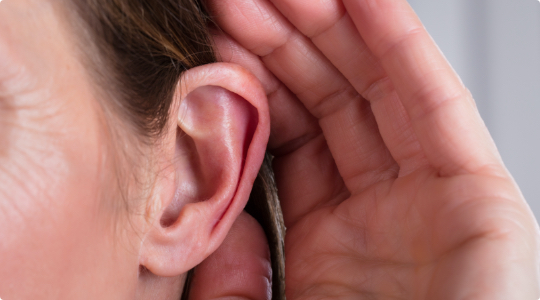 Online Hearing Test
Think You Might Have Hearing Loss?
Take our free, 5-minute online test to get a better understanding of your hearing health. It can determine if a professional screening is right for you.
Our Process
Finding the Perfect Match.
Hearing loss looks different for everyone, and as a result, there are a number of hearing aid varieties on the market. Through careful evaluations and custom fittings, we'll help you find the best device for your hearing loss needs.
Hearing Aid Services
We Service Your Devices
From hearing aid screening, selection and fittings, to ongoing maintenance and repairs – we offer a wide range of services to keep your hearing aids performing their best.
After your hearing evaluation, our licensed professionals will discuss with you the different styles, colors, technologies, and benefits to wearing hearing aids. You may be shown different styles or have the opportunity to try different hearing aids in the office. Custom impressions may be taken of your ears, depending on the style of hearing aid chosen.
More on Hearing Aid Evaluation
If you need hearing aids, then we will recommend the ones which would work best for you and schedule a fitting appointment. At this session, your hearing aids will be programmed, and you will be instructed on how to use them. Your hearing professional may make adjustments make sure the settings and fit are ideal for you.
More on Hearing Aid Fitting
Some minor hearing aid repairs can be done in the office setting in a short period of time; others will need to be sent to the manufacturer for repair. Your hearing professional can help determine what kind of a repair is necessary if you feel your hearing aid is not working properly.
More on Hearing Aid Repair
Live Speech Mapping is a fitting process that uses probe microphones and live real-time speech to allow the patient and their family members to immediately see and understand the benefits of hearing aids and fitting adjustments. This also aids the clinician in seeing how the acoustics of the patient's ear allow for sound to travel to the eardrum.